Dealing With Flood and Water Damage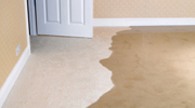 This is the time of year when weather is up in the air. Snow, rain and wind can come and go in a matter of a few hours leaving basements flooded, and many other problems in their wake. We are often called in for

flood and water damage cleanup

and ask for recommendations as to what else should be done when you've experienced damage and the loss of items in your home. We've done some research and have answered these questions time and time again, so this week, we are going to give some of our best tips to help you in the event of disaster.
Inventory: Something that you don't always think of, and that should be done before disaster strikes, is to maintain something of an inventory of the items in your home. You don't necessarily have to do this piece by piece, but knowing that you keep 200 CDs in your basement is helpful. Photograph valuable items or items that you would consider to be a keepsake. Photographs make an excellent record for insurance claims purposes, as well as provide you a little peace of mind in knowing that even if you lose something that was an heirloom, or a favorite piece of your child's artwork, at least you have a photo as a memento.
Coverage: It's very important to be aware of what your homeowner's policy covers. An average homeowner's policy will not cover certain types of flood damage even if it is related to a storm or disaster event. Knowing where you stand with your insurance company up front is a very good place to start.
Documentation: When you do have a claim, it's important to document any damage (this is where those photos and inventory we talked about will come in handy) and make only temporary repairs. It's obviously important to make your home livable again after a disaster strikes; however, it is important for an adjuster to see the full scale of the damage in order to make an informed decision.
File a Claim: Regardless of the amount of storm damage you have to your home, it is important to call your insurance company to start the claims process as soon as possible. Most companies have a direct number for claims, but in a pinch, you can contact your insurance agent for direction as well. This is especially important if you are unable to stay in your home due to the damage. If you are staying in a hotel, advising your insurance company up front is a good idea. Some policies offer reimbursement for hotel stays when your home is not safe to stay in. Finally, it's important to make a note of anyone you have spoken to at your insurance company, to keep a record of your conversations. Names, dates and extensions or ID numbers are always good items to keep in your file. With the early reporting of your claim, adjusters should be able to assess your damage quickly so the repair process can begin.
Most insurance companies will recommend a specific company or two to complete repairs and many times homeowners believe these are their only options. In most cases though, so long as a company has the proper damage repair certifications, the choice is up to you. As a homeowner, you should do some research and go with someone you are comfortable with to ensure the work is done the way you want it to be done. Often times word of mouth is a great way to accomplish this. Asking friends who have been in similar situations can be a great resource to finding someone who is reasonable and will do a great job.